Kofun Tombs: Are they pointless?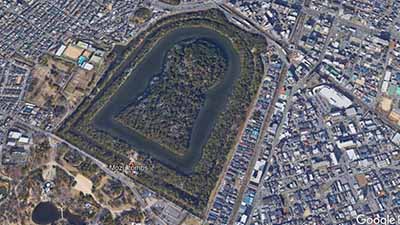 Between the 3rd and 7th century AD, thousands of earth mound tombs (Kofun 古墳) were constructed as tombs for leaders ranging from local areas to those that are considered to be the burial sites of the first emperors of Japan. They are scattered throughout Kyushu and Honshu and a few can be seen in Izu Peninsula as well.
A group of Italian scholars did a fascinating study of the Kofun using Google Earth Pro showing that "the vast majority of the Kofun access corridors are orientated to a sector of the sky in which the Sun shines every day (climbing or descending) with a marked preference for culmination at due south."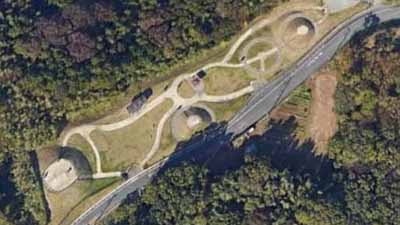 Top Image: Osaka Daisen Kofun
Bottom Image: Mukaiyama Kofun Shizuoka
(Both Courtesy of Google Earth Pro)The article makes for interesting reading as it also introduces some background into the social implications of the Kofun in Japanese society.
Kofun have four basic shapes: round and square are the most common, followed by 'scallop-shell' and 'keyhole. ' The keyhole tomb is a distinct style found only in Japan, with a square front and round back. The photographs on the left show the keyhole at the top and the round at the bottom.
So to answer the question "Kofun Tombs: Are they Pointless?," no.....since they mostly tend to point to the south.....tongue-in-cheek....
---
Stay Informed
When you subscribe to the blog, we will send you an e-mail when there are new updates on the site so you wouldn't miss them.
By accepting you will be accessing a service provided by a third-party external to https://www.japantouring.com/