The Japan Touring Blog Editor includes 47 built-in blocks that simplify creating interesting and eye-catching formats for your blogs. The types of blocks include those for Layout such as heading and tabs; Elements such as alerts and quotes; Media such as images and PDFs; and Embeddables for including your content from such media sites as Spotify and YouTube. Availability of the blocks depends on your level of membership in Japan Touring. The levels of membership are Standard, Bronze, Silver and Gold.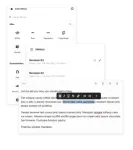 A new and simplied editor enables you to concentrate on content rather than layout. You are also provided with a choice of editors. One is similar to editors found in Microsoft and Apple applications. Another is an editor based on blocks that simplify layouts.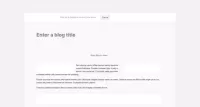 Our Blog built-in editor is a block-oriented app that allows you to move blocks of content, such as images and text, to different areas of the page as you wish.
Easily customize and tweak block properties within the composer
Layout (7)
Heading
Heading to help visitors and search engines understand the structure of the content
Text
Insert a paragraph of text for the content of your post
Tabs
Separate structure of the content within their own tabs
Columns
Structure blocks in the content into multiple columns
Table
Insert a table into your content to share data and charts
Section
Structure multiple blocks together in a section. Create reusable sections
Accordion
Create hidden or visible blocks using the accordion block
Elements (6)
Alerts
Insert an alert on your post. Includes 4 different note styles
Notes
Insert a note into your post.
Quotes
Provide quoted text visual emphasis. Includes 4 different unique styles
Buttons
Prompt visitors to take action with a group of button-styled links
Links
Displays a simple preview of the link within the post
Code
Display code snippets in your post. Works with most programming languages
Media (8)
Image
Insert an image in your content. Includes 7 different image styles to choose from
Gallery
Insert a beautiful gallery by selecting multiple images
Thumbnails
Displays multiple images in a grid layout. Choose a stacked or grid layout
Video
Embeds a video player in the post using existing or new video files
Audio
Embeds an audio player in the post using existing or new audio files
Files
Embed any other download-able files on the web with a download button
PDF
Embed PDF file with a built-in PDF viewer on the post
Comparison
Provide visitors with a comparison between different image blocks
Misc. (5)
HTML
Write your own custom html codes when you need to
Horizontal Rule
Create a break between sections with a horizontal separator
Readmore
Insert a breakpoint to distinguish between the intro text and full text
Page Break Separator
Separate contents on the post with the page break separator
Joomla Module
Embed modules from the site in your blog post
Embeddables (21)
Gist
Embed Gist widgets from Github in your post
Instagram
Embed stylish Instagram widgets in your post
Spotify
Embed Spotify music player widgets in your post
Behance
Showcase creative works by embedding Behance widget in your post
Soundcloud
Embed Soundcloud music player in your blog post
Codepen
Showcase your Codepen ideas by embedding widgets in your post
Twitter
Embed or quote a Tweet by using the Tweet widget in your post
Pinterest
Showcase and embed Pinterest widgets in your post
Youtube
Embed a Youtube video player in your post. Includes additional player settings
Vimeo
Embeds videos from Vimeo with its own video player in your post
Daily Motion
Embed Daily Motion video player in your blog post
TED
Embed inspiring TED videos in your blog post
Metacafe
Embed Metacafe video player in your blog post by entering the links to the video
Facebook
Embed Facebook posts in your blog post by sharing the link to the post
Sendy Newsletter
Embed a subscription form for Sendy newsletters in your blog post
GIPHY
Embed GIPHY GIFs and stickers in your blog post
Polls
Embed a polling form in the post using the Polls block
TikTok
Embed interactive TikTok posts in your blog post
Lottie
Include unique and flashy animations with Lottie in the post
Apple
Embed podcasts, music, album and playlist from Apple Music
Twitch
Embed live streams, video on demand, clip or chat from Twitch